Course Syllabus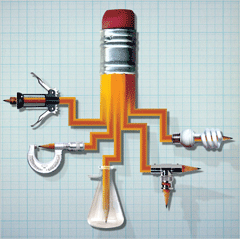 Learning Tools
Course Information
Course Description
This course introduces students to concepts of Cognitive Psychology and offers them new perspectives on how to observe and understand the interaction between thoughts and behaviors in their daily lives. Students will evaluate the tendencies and correlations between what a person "thinks" and what that person "does" through observation and interpretation of their own experiences in the environments they interact in daily. A report will be generated for each competence that will include an analysis of the student's own cognitive behavioral tendencies as well as those of others in their daily environments.
The four competencies or "topic areas" that students have to choose from in the course provide the environments for students to observe, such as: the community for H-1-I; personal relationships for H-3-A; the use of communications technology for S-3-X; and their careers and work lives for FX.
Course Learning Goals
Upon completion of this course, you will be able to:
Describe the history and development of the field of Cognitive Psychology.
Understand social and cultural factors of learning and processing knowledge.
Identify how the brain processes a variety of different stimuli and produces output.
Maximize the use of memory based on an understanding of memory models.
Evaluate communication outcomes and processes based on the use of language.
Reflect on decision-making using problem solving and reasoning techniques.
Monitor and evaluate your own thoughts and behaviors to maximize your effectiveness in the different environments and settings you engage in daily.
Develop a plan for self-improvement based on an analysis of your own cognitive and behavioral tendencies.
Apply your understanding of how and why people behave in different ways to better understand the behaviors of those you encounter on a daily basis.
Course Competencies
In this course, you will develop the following competencies:
| | |
| --- | --- |
| Competence | Competence Statement and Criteria |
| H1I | Can understand change methodology, plan change within a community, and assess its likely impact. |
| H3A | Can use two or more theories of human psychology to understand and solve problems. |
| S3X | Can analyze how the use of a particular mode of communications technology can influence the way people interact with each other. |
| FX | Can assess how one's own thought patterns influence that person's career choices and behavior in the workplace. |
CCH 325 Course Requirements for students in SCPS course based programs taking the course for 4 credit hour sections, address the assignments listed for the H1I and H3A requirements.
How the Competencies will be Demonstrated in this Course
You will demonstrate competence through participation in the discussion forum and development of your written assignments. The discussion that takes place during each module will be the primary means for you to demonstrate the learning that you are achieving through your reading assignments and personal observations during the quarter. You will be expected to share questions, insights, clarifications and observations and to report on the environments you are observing and share examples of what you plan to include in your final projects.
You will complete three written assignments in the course. The first assignment, a self-assessment exercise, will not relate to the specific competencies you are taking in the course, but rather will a general assessment of your cognitive abilities. The second and third assignments will be related to the specific competencies you are taking in the course. You will need to submit the second and third assignments for each competence you are taking in the course. The third assignment is related to the reading assignments each week and you should be able to write one section of the final project each week, therefore leaving you less work to do at the end of the quarter.
Learning Resources
To buy your books, go to http://depaul-loop.bncollege.com.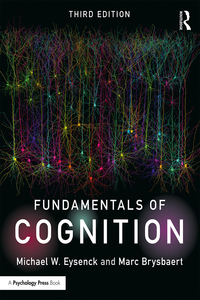 Required Reading:
Fundamentals of Cognition, 3rd Edition, by Michael W. Eysenck and Marc Brysbaert, (2018), Routledge Press. ISBN: 978-1-138-67045-7 (paperback), ISBN: 978-1-315-61763-3 (e book), ISBN: 978-1-138-67043-3 (hard cover)
Various Internet Resources as found on course website.
Learning Deliverables
Cognitive Self Assessment: The objective of this assignment is for you to reflect on your cognitive abilities and the behaviors that are associated with them.  This experience will help you to create a frame of reference as you learn about cognitive functions and their applications during the course.  As we continue through the different modules in the course, you will gain knowledge and insight into how each of these functions works so that you can use them to sharpen your skills. This assignment is worth 25 Points toward your final grade. 
Competence Environment Assessment: The objective of this assignment is for you to examine and assess the environments you will be observing during the course.  This experience will create a frame of reference for you to observe these environments and provide a foundation for you to apply the information you will learn about cognitive abilities and their application to the behaviors exhibited in these environments. This assignment is worth 25 Points toward your final grade. 
Competence Environment Final Report: The objective of this assignment is for you to apply the concepts and theories you have learned related to cognition and behavior to the environments you have been observing during the quarter. This assignment is worth 50 Points toward your final grade. 
Course Grading Criteria and Scale
Grades will be assessed on a point system that are earned for completing the tasks listed below. Points are assigned for Discussion Forum Participation and Assignment One, Assignment Two, and Assignment Three. Keep in mind that you need to achieve a C- or better to be able to count the completed requirements toward your graduation requirements in the SCPS program.
150 Points Total Grade Points
50 Points Discussion Forum Participation (5 points for each of 10 modules)
25 Points Assignment One: Cognitive Self-Assessment
25 Points Assignment Two: Competence Environmental Assessment
50 Points Assignment Three: Competence Environmental Final Report
| | | |
| --- | --- | --- |
| 138 Points = A 92% | 132 Points = A- 88% | 127 Points = B+ 85% |
| 123 Points = B 82% | 117 Points = B- 78% | 112 Points = C+ 75% |
| 108 Points = C 72% | 103 Points = C- 69% | 99 Points = D+ 66 |
| 94 Points = D 63% | 90 Points = D-60% | 89 Points and below = F |
Pass/Fail Grading Options
Students have the option of taking all SCPS undergraduate courses as Pass/Fail even if a class is initially structured for a letter grade assessment. In these cases a Pass is awarded when competence is demonstrated at a level that would otherwise earn a grade of C- or higher.
In deciding to select Pass/Fail grading students should be aware that courses assessed as Pass will earn credit hours toward degree completion but will not be included in computing grade point averages. Courses assessed as Fail will not only be recorded as credit hours attempted but will also be included in computing a student's grade point average. The university only allows twenty credit hours to be earned through the Pass/Fail assessment option.
If a student wants to switch the method of assessment, either to or from the Pass/Fail option, this must be requested from the instructor in writing by the beginning of the third week of the quarter. For courses that meet fewer than ten weeks of the quarter, this request must be made by the beginning of the third week of the course. The grading basis may not be changed after these deadlines, with no exceptions.

Please note: Grades lower than a C- do not earn credit or competence in the School of Continuing and Professional Studies.
Course Map
Module
Module Theme
Reading Assignments
Web Discussion Topics
Written Assignments
Module 1
The Study of Cognition
Eysenck
Chapter 1
Cognitive Psychology Reflections
(5 Points)
Module 2
Environment and Self Assessments
Assessment Assignments Reflection
(5 Points)
Assignment 2.1:
Self-Assessment
(25 Points)

Assignment 2.2:
Environment Assessment
(25 Points)
Module 3
Perception and Consciousness
Eysenck
Chapter 2,3
Module 3 Project Examples
(5 Points)
Module 4
Long and Short Term Memory
Eysenck
Chapter 4,5
Module 4 Project Examples
(5 Points)
Module 5
Practical Cognition
Eysenck
Chapter 6,7
Module 5 Project Examples
(5 Points)
Module 6
Using Language
Eysenck
Chapter 8
Module 6 Project Examples
(5 Points)
Module 7
Problem Solving
Eysenck
Chapter 9
Module 7 Project Examples
(5 Points)
Module 8
Judgment and Reasoning
Eysenck
Chapter 10
Module 8 Project Examples
(5 Points)
Module 9
Cognition and Emotion
Eysenck
Chapter 10
Module 9 Project Examples
(5 Points)
Module 10
Synthesizing Observations
Course Reflections
(5 Points)
Assignment 10.1 Final Project (50 Points)
Course Structure
The basic structure of the learning in this course will involve the following activities:
Reading the assigned texts and developing an understanding of how our minds process information and its relationship to behavior.
Choosing a specific environment of which you are a member to observe how people interact (or behave) in that setting for each competence.
Completing a preliminary assessment of your own cognitive abilities and the environments you have chosen to observe.
Sharing experiences and insights with fellow students through the online discussion forums regarding the reading assignments and your personal observations of the thought processes and behaviors you are observing in your environments.
Preparing a report and action plan for each competence taken in the course.
To see course due dates, click on the Checklist link on the top navigation bar. This page contains module-specific checklists and due dates for the work due in the course.
Assessment of Student Learning
The assignments in the course are organized by competence. Each competence taken in the course will be assessed a letter grade. Students taking the course for the 4 credit hour sections will address the assignments of two competence learning statements and get one grade for the course. 
There are several aspects of your learning that you will use to demonstrate the course learning outcomes.
These include what you have learned through your reading assignments; your observations of yourself and the competence environments you will assess; the integration of theories and concepts addressed in the course to your final projects; and, your reflections and contributions to the class discussion.
The following criteria will be used to assess your competence in the course in equal portions of each item.
Quality of contributions to weekly discussion forums:

Relevance to the topic addressed.
Accuracy of information and use of theory.
Conciseness of explanations and focus on main points.
Evidence cited to substantiate ideas.
Timeliness of submitting messages.

Quality of responses to other students in discussion forums:

Demonstrates respect for the ideas and input of others.
Acknowledges and offers feedback to others.
Stays on track with discussion objectives.
Contributes helpful and insightful ideas.
Offers questions that challenge and engage others.

Quality of Assignments One and Two due at the end of Module Two:

Submits assignments by the assigned due date.
Addresses the assignment according to directions.
Demonstrates an appropriate level of reflection.
Addresses assignment in appropriate level of detail.
Demonstrates understanding of learning objectives.

Quality of Assignment Three: Competence Environmental Final Project:

Addresses the assignment according to directions.
Describes relevant observations of competence environments.
Integrates and references theories and concepts from course texts accurately.
Incorporates own ideas, theories and perspectives to assignment.
Presents project with attention to aesthetics, clarity and grammatical acuity.
General Assessment Criteria for All Writing Assignments
All writing assignments are expected to conform to basic college-level standards of mechanics and presentation.
Consider visiting the Writing Center to discuss your assignments for this course or any others. You may schedule appointments (30 or 50 minutes) on an as–needed or weekly basis, scheduling up to 3 hours worth of appointments per week. Online services include Feedback–by–Email and IM conferencing (with or without a webcam). All writing center services are free.
Writing Center tutors are specially selected and trained graduate and undergraduate students who can help you at almost any stage of your writing. They will not do your work for you, but they can help you focus and develop your ideas, review your drafts, and polish your writing. They can answer questions about grammar, mechanics, different kinds of writing styles, and documentation formats. They also can answer questions and provide feedback online, through IM/webcam chats and email.
Obviously, the tutors won't necessarily be familiar with every class or subject, but they are able to provide valuable help from the perspective of an interested and careful reader as well as a serious and experienced student-writer.
Schedule your appointments with enough time to think about and use the feedback you'll receive. To schedule a Face-to-Face, Written Feedback by Email, or Online Appointment, visit www.depaul.edu/writing.
Discussion Forums
Discussion Forums are an important component of your online experience. This course contains discussion forums related to the topics you are studying each week. For requirements on your participation in the Discussion Forums, please see "Course Expectations" in the syllabus.
A Course Q & A discussion forum has also been established to manage necessary, ongoing social and administrative activities. This is where the management and administrative tasks of the course are conducted, and where you can ask 'process' questions and receive answers throughout the course. Please feel free to answer any question if you feel you know the answer; this sharing of information is valuable to other students.
College and University Policies
This course includes and adheres to the college and university policies described in the links below:
Academic Integrity Policy (UGRAD)
Academic Integrity Policy (GRAD)
Course Withdrawal Timelines and Grade/Fee Consequences
Accommodations Based on the Impact of a Disability
Protection of Human Research Participants
APA citation format (GRAD)
Additional Course Resources
University Center for Writing-based Learning
Credits
This course was designed and produced by Mr. Kenn Skorupa, Dr. Anna Maria Wegierek, and staff at SCPS, School of Continuing and Professional Studies of DePaul University.
©2010 School of Continuing and Professional Studies, DePaul University. All Rights Reserved by SCPS during contractual interval with the Author.
Printed in the USA.